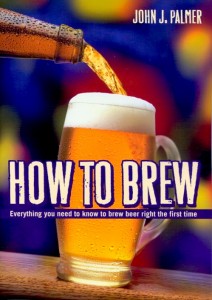 ¿Qué puedo decir de John Palmer? A principio de los 90 cuando comencé a interesarme en esta afición de la elaboración artesana de cerveza, Internet no estaba aún muy desarrollado y era muy difícil encontrar información abundante sobre la materia. John Palmer un ingeniero experto en Metalurgia había creado un pequeño anexo en ingles que describía con todo lujo de detalles el proceso y para mi fue todo un hallazgo. Le pedí permiso para traducirlo al castellano y ahí empezó todo. Es una persona con un carisma especial que le hace ser respetado por toda la comunidad de aficionados a la elaboración de cerveza artesana. Como Ingeniero que es ha añadido fundamento a toda la teoría convenciendo con la razón y no con suposiciones. Para mi es un pionero digno de mucho respeto. Cuando empiezas en este hobby no siempre tienes toda la información o todas las respuestas y él ha contribuido muchísimo a dar claridad en temas oscuros como el tratamiento de los metales, la sacarificación, etc. y en general muchos cálculos que te hacen el día a día mas fácil.
Aquel pequeño anexo de 1992 ha evolucionado en un libro que ya va por la tercera edición y que abarca todo el proceso de principio a fin. Aún no teniendo ninguna relación comercial con John lo recomiendo muy encarecidamente. Es un imprescindible en la librería de todo el aficionado a la elaboración artesna de cerveza que se precie. Lo puedes encontrar en muchos sitios pero quiza el mas inmediato es amazon.es
Existe también una versión electrónica gratuita que puedes encontrar en su sitio web HOW TO BREW
Una vez que hayas leído su libro…. no va a haber quien te pare… jajajaja.
¿Quereis ver a John en acción? Aqui os dejo un par de videos. En uno de ellos habla sobre su libro HOW To BREW

y en el otro dando una clase magistral sobre la influencia de la alcalinidad del agua en el sabor final de la cerveza resultante JOHN PALMER ON RESIDUAL ALKALINITY & BREWING WATER
Saludos,
Antonio.